Jake Rudolph, Branding & Communications Officer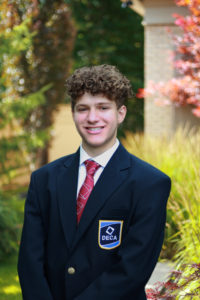 Jake Rudolph is ecstatic to serve as one of DECA Ontario's Branding and Communication Officers for the 2020-2021 year. Jake is a grade 11 student at Stephen Lewis S.S. in Thornhill and has been involved in DECA he started high school, serving as the Junior Executive for his school's chapter this past year. DECA has helped Jake grow as a person, businessperson, and leader. His hope is that all members gain something positive from DECA, whether it be perfecting their presentation skills, making new lifelong friends, or even learning how to iron a suit. 
Outside of DECA, Jake is highly involved in his community and school. He is a basketball coach for the Thornhill Basketball Association, working with players of all ages and levels to help enhance their basketball skills and foster self-improvement, all while having fun. Jake has also played basketball competitively for the last five years. He has been a part of his school's Student Athletic Association, since grade 9, and has played an integral part in the execution of school-wide events and sports games. In addition, Jake is a peer tutor, competes on his school's Science Olympics team, and is an avid CrossFit athlete. He spends his free time listening to country music, playing card games, going down internet rabbit holes, and hanging out with his friends. 
Jake is extremely excited to meet and work with DECA members across the province to make this year one to remember! He welcomes you to contact him through his social media, or by sending an email to jake@deca.ca if you have any questions, ideas, or just want to talk.