Marianna Speranza, Branding & Communications Officer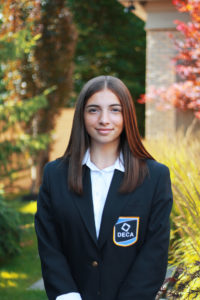 Marianna Speranza is grateful to serve as one of the 2020-2021 Branding and Communication Officers for DECA Ontario. Marianna is a grade 11 student attending the Country Day School and has participated in her school's DECA chapter since 2019. Her goal for this year is that every DECA member can create meaningful friendships and valuable skills as she did when she participated last year. 
Apart from DECA, Marianna served on her school's leadership team as the Intramural Coordinator running and facilitating sports games for her entire high school. She also participates in a variety of different sports and is the Team Captain of her competitive volleyball team. Along with sports, Marianna has starred in multiple theatre productions and is heavily involved with the drama department at her school. In her spare time, Marianna helps run a podcast called The Business Casual, which is targeted towards young women in the business industry.
Mariana is very eager and excited to work with her fellow officers to make DECA's year 42 unforgettable. If you have any questions or if you would just like to chat please feel free to contact her on social media or through email at marianna@deca.ca.