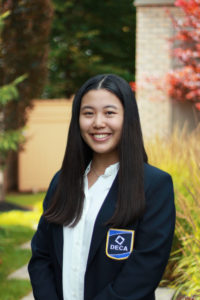 Rachel Ma is beyond excited and humbled to be serving as DECA Ontario's Secretary for the 2020-2021 year. Rachel is a senior at A. Y. Jackson S. S., where she first discovered the wonders of DECA in grade 9.  She quickly found her love for marketing and translated her newfound knowledge into training, for her chapter, as the Head of Marketing. Rachel's ultimate goal is to inspire, even just one member to develop the almighty power: believing in oneself.
Aside from DECA, Rachel is passionate about sports and their accompanying team experiences. She is serving a third term as the Vice-President on the AYJ Athletic Council, and second as team captain of her school's field hockey, softball, and golf teams, of which she has also been awarded MVP and Coach's Awards. She also enjoys story-telling, and is a founding editor for Red Pocket Magazine, an international non-profit that gives voice to youth of the Asian diaspora. Above all else, Rachel loves people. In all of her endeavours, she makes an active effort to build a team atmosphere of encouragement and to make personal connections. In her spare time, you can find Rachel reading Agatha Christie, watching dog videos, working towards fluency in a new language (currently French and ASL), or exploring the few worthy film titles she has yet to see.
Rachel is eager to embrace the special circumstances to make DECA's year 42 the best yet. She loves meeting new people and finding common ground, so don't hesitate at all to contact her with suggestions and inquiries, but especially to chat: on Instagram, Facebook, or at rachel@deca.ca.