Shreyas Suri, Chapter Development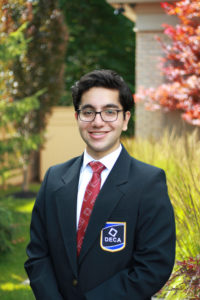 Shreyas Suri is honoured to be serving as the DECA Ontario's Chapter Development Officer for the 2020-2021 school year. Shreyas is a grade 12 student at Port Credit Secondary School,  in the Science and Technology program, and has been actively involved in DECA since Grade 9, competing in regional, provincial, and international conferences. Shreyas recently completed his term as President with his school chapter. Shreyas' goal for DECA Ontario is to implement new technologies that increase access to resources and enhance member success both inside and outside of DECA. 
Outside DECA, Shreyas combines his passion for swimming and community involvement as a Swim Instructor with the City of Mississauga. Shreyas enjoys teaching individuals of all ages on improving their swimming capabilities, meeting their aquatic fitness goals, and learning first-aid practices. Shreyas is also the Co-Founder and lead researcher of Aura, a neurotechnology company that uses electroencephalogram (EEG) technology to monitor brain waves and identify and alert users of an impending epileptic seizure. Furthermore, Shreyas is serving as a Marketing Coordinator at 5-ing COVID 19. This organization pledges to run 1km for every $2 donated, aiming to raise funds for 5 essential services at Sick Kids Hospital, raising over $6 000 to date.  In his free time, Shreyas enjoys long-range cycling, reading science fiction, playing with his brother and catching the latest movies with friends!
Shreyas is excited to take the 2020-2021 year to the #NextLevel and guide DECA members across Ontario to achieve their personal and professional goals! If you have any questions, concerns, suggestions, or new ideas, don't hesitate to get in touch on social media or through an email at shreyas@deca.ca.