Andy Feng, Media Coordinator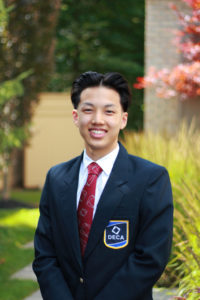 Andy Feng is honoured to represent DECA Ontario as one of two Media Coordinators for the 2020-2021 year. Andy is a grade 11 student at Mary Ward Catholic Secondary School, in Scarborough, and his participation in his DECA chapter has been a cornerstone of his highschool experience since grade nine. He most recently served a term as Training Manager in his school's chapter. DECA has allowed Andy to have amazing experiences and has helped him on his journey of personal growth. He hopes that through DECA, every member is able to develop their confidence and leadership skills while also creating lasting friendships. 
Outside of DECA, Andy spends his time on Saltare Athletica, an apparel company he and his friends founded, in which he serves as Design Lead. He is an executive of his school's yearbook team and writes for the school newspaper. Andy is involved in athletics, participating in his school's Track and Field and Cross Country teams. As well, he works part time as a swimming instructor at his local pool. During his free time, Andy can be found on a run with his friends, doing work at a library or a coffee shop, or discovering new shows to watch. 
Andy is excited and determined to make 2020-2021 an unforgettable year for DECA Ontario and all of its members. If you would like to contact him, feel free to reach out on social media or send him an email at andy@deca.ca.