Barton Lu, Chapter Development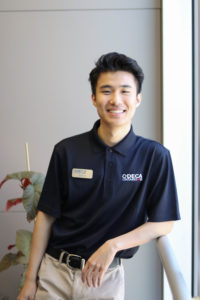 Barton Lu is humbled to serve as one of DECA Ontario's two Chapter Development Officers for the 2019-2020 year. Barton is a grade 12 student at A. Y. Jackson Secondary School, where he has been involved in DECA since grade nine. He has previously taken on executive positions such as Grade 10 Representative and Head of Training. Barton's biggest hope for DECA Ontario is that all DECA students can look at DECA as a time where they were empowered to reach their full intellectual and personal potential. This is the crux of DECA.
Barton's accomplishments include serving as a summer intern for RBC, publishing short stories in two publications, and publishing an abstract in the ISSCY (International Social Science Conference for Youth). Barton is the founder of Red Pocket Magazine, a magazine that challenges Asian writers to learn something new about their culture and write a short story that incorporates what they learned through allegories. He is also part of The Junior Academy, an international science program that allows students to work on challenges based on the United Nations' Sustainable Development Goals. At school, Barton has been a part of his student council for four years. In his spare time, he enjoys singing, playing violin, taking a stroll in the park, and thinking about DECA, of course!
Barton knows that 2019-2020 will be a pivotal year for all DECA members and he is excited to bring breath and vigor to his outlandish chapter development ideas. If you have any questions or would like to chat, please feel free to reach out to Barton via his social media or barton@deca.ca.