Harsh Patel, Social Media Coordinator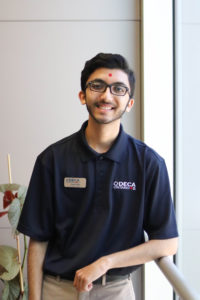 Harsh Patel is excited and honoured to represent DECA Ontario as one of the Media Coordinators for the 2019-2020 year. Harsh is a grade 12 student currently enrolled at Woburn CI in Scarborough. Since grade 10, he has been truly passionate about the values and mission that DECA as an organization stands for. Harsh served as the Vice President of Marketing for his local chapter and has since increased the interest in DECA throughout the school. DECA has helped Harsh develop his interpersonal skills and be able to communicate his ideas to others effectively and efficiently.
Apart from DECA, Harsh volunteers as a Youth Activities Coordinator for BAPS Charities. Here, he facilitates audio/visual experiences for Youth Conferences with an audience size ranging from 500 to 10,000 individuals. He helps clients, ranging from independent project managers to medium scale businesses, with design related problems like logos, business cards, etc. Harsh takes pleasure in designing away on his Macbook while sipping on a cup of coffee. During his spare time, he really enjoys cooking and trying new and innovative recipes.
Harsh is very enthusiastic about exploring prospects at this organization, as a Media Coordinator. If you have any questions, concerns, or if you are looking to talk, he encourages you to reach out through social media or by email at harsh@deca.ca.