Pradnaya Pathak, Chapter Development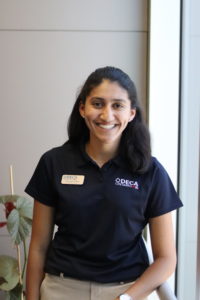 Pradnaya Pathak is incredibly honoured to serve as one of the Chapter Development Officers for the 2019-2020 year! Pradnaya is a grade 12 student at the University of Toronto Schools, and has been highly involved in DECA throughout high school, recently completing a term as Marketing and Entrepreneurship Executive for her school chapter. Her favourite part of DECA is meeting new people and fostering a tight knit community within the DECA Ontario family.
Outside of DECA, Pradnaya is extensively involved in her school community as a Student Outreach Coordinator, acting as a liaison between the student body, the community, and the admissions department. She helps organize school tours, and events like Open House, New Student Orientation, and Curriculum Night. Pradnaya also enjoys Model United Nations; she has been awarded multiple delegate awards and was a Competition Training Executive for her school's team, as well as an Executive of Toronto MUN and Model City Hall. Outside of school, Pradnaya teaches younger students math as a Spirit of Math Assistant Teacher. Pradnaya also loves long distance running, and runs with her school's Varsity Cross Country Team. She spends her free time reading, travelling, listening to podcasts, eating chocolate, and hanging out with friends!
Pradnaya is beyond excited to make 2019-2020 an amazing year for every single DECA Ontario member! If you have any questions, concerns, or just want to chat, feel free to reach out to her on social media or through email at pradnaya@deca.ca.