Romy Levy, Events Coordinator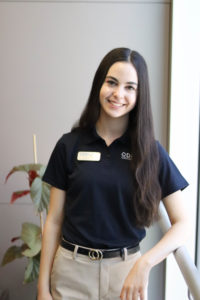 Romy Levy is thrilled to serve DECA Ontario as the Events Coordinator for the 2019-2020 year. She is a grade 11 student at Westmount Collegiate Institute in Thornhill, where she has been involved in DECA since starting high school and recently completed a term as an Orals Events Trainer.
Aside from DECA, Romy is the President and Founder of her school's 'Because I am a Girl Champions of Change' Club, where she explores social justice issues by encouraging open conversations regarding gender equality. She advocates for human rights internationally and helps to sponsor girls in developing communities through fundraising and awareness events. Romy is also a member of Plan International's Youth Speakers Bureau where she speaks on behalf of the organization at numerous events and is a Peer Tutor at her school. In her free time, she loves to be active, meet new people, and travel.
Romy is excited to make DECA Ontario's 41st year absolutely incredible! If you would like to contact her with any questions or ideas, don't hesitate to reach out to her through social media or email her at romy@deca.ca.