Rubaina Singla, Secretary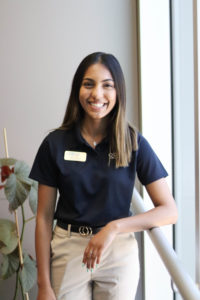 Rubaina is a grade 12 student at Markville Secondary School. She has extensively been involved with the DECA chapter at her school since grade 9, and served a term as her chapter President last year. From her first regionals, to representing Ontario on the international stage, her high school journey would not have been the same without the experiences and personal growth that DECA provided her with. She wants every member to be able to reflect on their journey to become better leaders, change makers, and people.
Outside of DECA, she is passionate about civic responsibility and making a change within her community. She is the Chair of Change the World Markham to promote and advocate for youth volunteerism, especially with hard-to-reach members of her community. In addition, she has worked as an administrative assistant at a law firm to learn about the world of legal studies. She has worked in the retail industry for over a year and has a passion for fashion. Rubaina also likes to volunteer at her local temple and children's summer camps every year.
In her free time, Rubaina loves to stay active – mostly through long distance running! She loves spending time enjoying the outdoors and travelling. She is passionate about meeting new people, seeking new experiences, and spending time with friends and family. She loves making new friends – so don't be afraid to message her on instagram, facebook, or email at her at rubaina@deca.ca.