Ryan Chang, Media Coordinator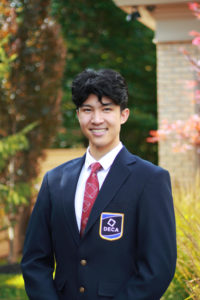 Ryan Chang is extremely excited to be serving as one of the 2020-2021 Media Coordinators. Ryan is a grade 12 student at Marc Garneau Collegiate Institute whose DECA experience has been nothing short of transformational. Since his involvement in the ninth grade, Ryan quickly discovered that DECA is so much more than a competition for medals and plaques, but an irreplaceable community akin to a second family. From serving as the Head of Marketing and Communications in his local chapter to now serving as a Provincial Officer, Ryan's foremost objective is to help make the DECA experience for others as unforgettable as it has been for him.     
In addition to DECA, Ryan is involved in his school's student council where he works diligently to ensure the creation of successful school dances, spirit events, and special initiatives. He has also been involved in his school's newspaper as an editorial writer, was a builder on the robotics team, a 2019 SHAD Fellow, and an international finalist in HOSA. Outside of academia, Ryan enjoys playing volleyball, badminton, and ultimate frisbee, as well as going on long scenic bike rides. He also enjoys playing the violin and cello, especially in group settings, namely ensembles or quartets. In Ryan's spare time, he focuses on finding new TV series to binge-watch as he snacks on tasty foods while being wrapped around by blankets like a human burrito.
Ryan can't wait to bring this year's DECA experience to the #NextLevel along with the rest of Team 42 and the DECA Ontario community. If you have any questions, concerns or would just like to chat, feel free to reach out to him through social media or email him at ryan@deca.ca.