Sherry Yang, Media Coordinator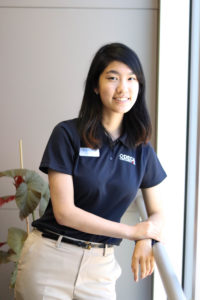 Sherry Yang is incredibly honoured to be serving as one of DECA Ontario's Media Coordinators for the 2019-2020 year. Sherry is a grade 11 student at St. Theresa of Lisieux C.H.S and has been involved in her school's DECA chapter since grade 9, serving a term as the Vice President of Marketing, and competing internationally for two years and counting. DECA has given Sherry the opportunity of a lifetime, full of unforgettable, inspirational, friends, mentors, and advisors.  Sherry wants to ensure that every member not only succeeds, but thrives through DECA.
Beyond DECA, Sherry is the president of her school's Diversity and Equity Council, helping to foster a sense of unity and acceptance throughout the community. She is the co-founder of The Boiling Frog, a social media consultancy that helps small organizations and local politicians take the leap into the digital space. She is passionate about volunteering, and is a lead executive on Youth Nation Alliance, an organization that promotes youth community service. In her spare time, Sherry can be found doodling something in her sketchbook, playing badminton, watching Formula One racing highlights, or hanging out with friends while (preferably) sipping on bubble tea.
Sherry hopes to make year 41 amazing, and is beyond excited to meet and connect with members all across Ontario! If you want to share ideas, make a recommendation, or simply chat, Sherry encourages you to reach out via social media, or through her email sherry@deca.ca.