Chapter LEAD Advisors need to register their school FIRST in order for their students to register this year.  Otherwise, the school name will not appear as an option.
Community
Network with 15,000+ elite business students across Ontario and 220,000+ around the world. This is your chance to make lasting connections across the largest high school student organization in Canada!
Competition
Members compete at Regionals, Provincials, and Internationals in a business case study competition, competing for awards and scholarship  recognized by employers, universities, and colleges alike.
Experience
DECA arms you with practical business knowledge and experience for your limitless future! Our alumni network includes leaders at Canada's top companies, VCs, startups, and even beyond!
Fun
DECA members travel the world and never stop having fun. This is not your average classroom environment. You're encouraged to go on social media, make lasting friendships, and scream your head off.
About DECA
Through conferences and competitions, DECA instills professionalism and prepares youth to respond to authentic business cases and market demands.
In just less than 40 years, DECA Ontario has grown to be the 2nd largest DECA association in the world. In this time, we have built our networks of members, alumni, educators, school administrators, and business professionals, creating a community of growth and mentorship. DECA's programmes and activities have innovated over time offering opportunities to explore new career paths and technologies as they apply to the world of work. Our membership has organically grown by 20% in the past year – a testament to our ability to meet the demand by youth for experiential learning.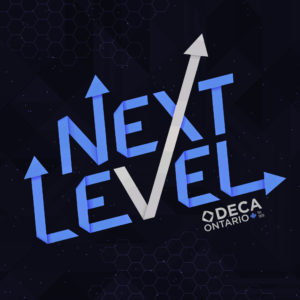 Prepare for this #NextLevel Year!
Get prepared for this upcoming competitive season by finding out which event suits you! Use the personality quiz below to help you choose your event. Then, visit the competitive events page to learn more about the events.