About DECA
Through conferences and competitions, DECA instills professionalism and prepares youth to respond to authentic business cases and market demands.
In just less than 40 years, DECA Ontario has grown to be the 2nd largest DECA association in the world. In this time, we have built our networks of members, alumni, educators, school administrators, and business professionals, creating a community of growth and mentorship. DECA's programmes and activities have innovated over time offering opportunities to explore new career paths and technologies as they apply to the world of work. Our membership has organically grown by 20% in the past year – a testament to our ability to meet the demand by youth for experiential learning.
Why DECA?
Mission
To be the leading, innovative extra-curricular program for secondary school students in Ontario by creating professional partnerships and experiential learning opportunities that allow students to develop confidence, employability skills and demonstrate leadership.
Business Objectives
The long-term business objectives of DECA Ontario are to increase awareness of DECA throughout the province to maximize student membership, strengthen corporate sponsorship, and encourage direct support of events in the community.
Values
DECA Ontario operates in accordance with the highest standards in all relationships with members, volunteers, sponsors and the community. DECA fosters a climate that encourages innovation and diligence among advisors and volunteers.
Guiding Principles
DECA's eight guiding principles are organized around the organization's emblem, the DECA Diamond. The inner four points of the DECA Diamond represent the guiding principles which address the purpose of DECA's comprehensive learning program:
Integrates into Classroom Instruction
Applies Learning
Connects to Business
Promotes Competition
The outer four points of the DECA Diamond address the results of DECA's comprehensive learning program. DECA prepares the next generation to be:
Academically Prepared
Community Oriented
Professionally Responsible
Experienced Leaders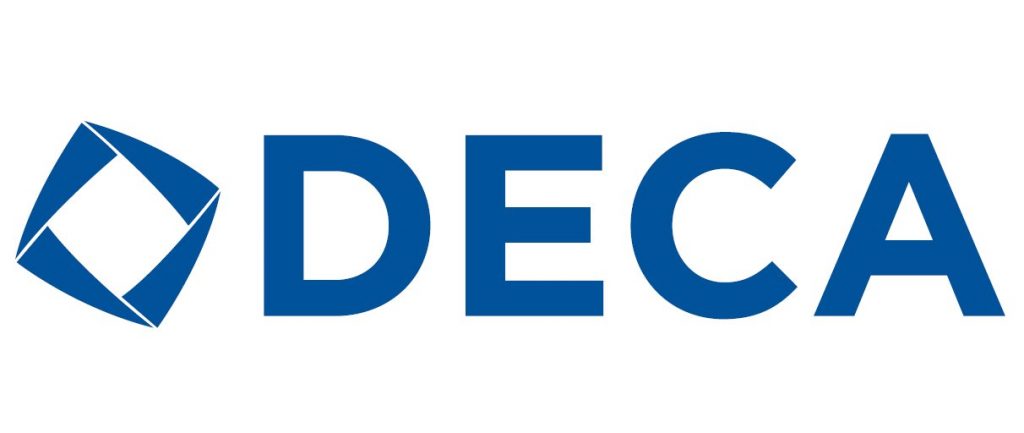 DECA Ontario is one of 60 international delegations of DECA Inc.   The parent organization is registered as a 501(c)(3) not-for-profit student organization with more than 223,000 members in the USA, Canada, China, Germany, Guam, Mexico, Puerto Rico, and Spain which includes both high school and university divisions.
---
DECA Ontario is registered as non-for-profit in Canada; 820570679.  DECA Ontario's CGL and Director's Liability Insurance.